Invoice & Estimate with Alto is a powerful tool that helps entrepreneurs manage the invoicing process. It addresses the challenges that today's users face by ensuring a secure and efficient exchange of documents with your business partners and clients.
Alto e-invoicing is user-friendly and combines many useful features with advanced functionality. In this series, we walk through the app and explain it.
Settings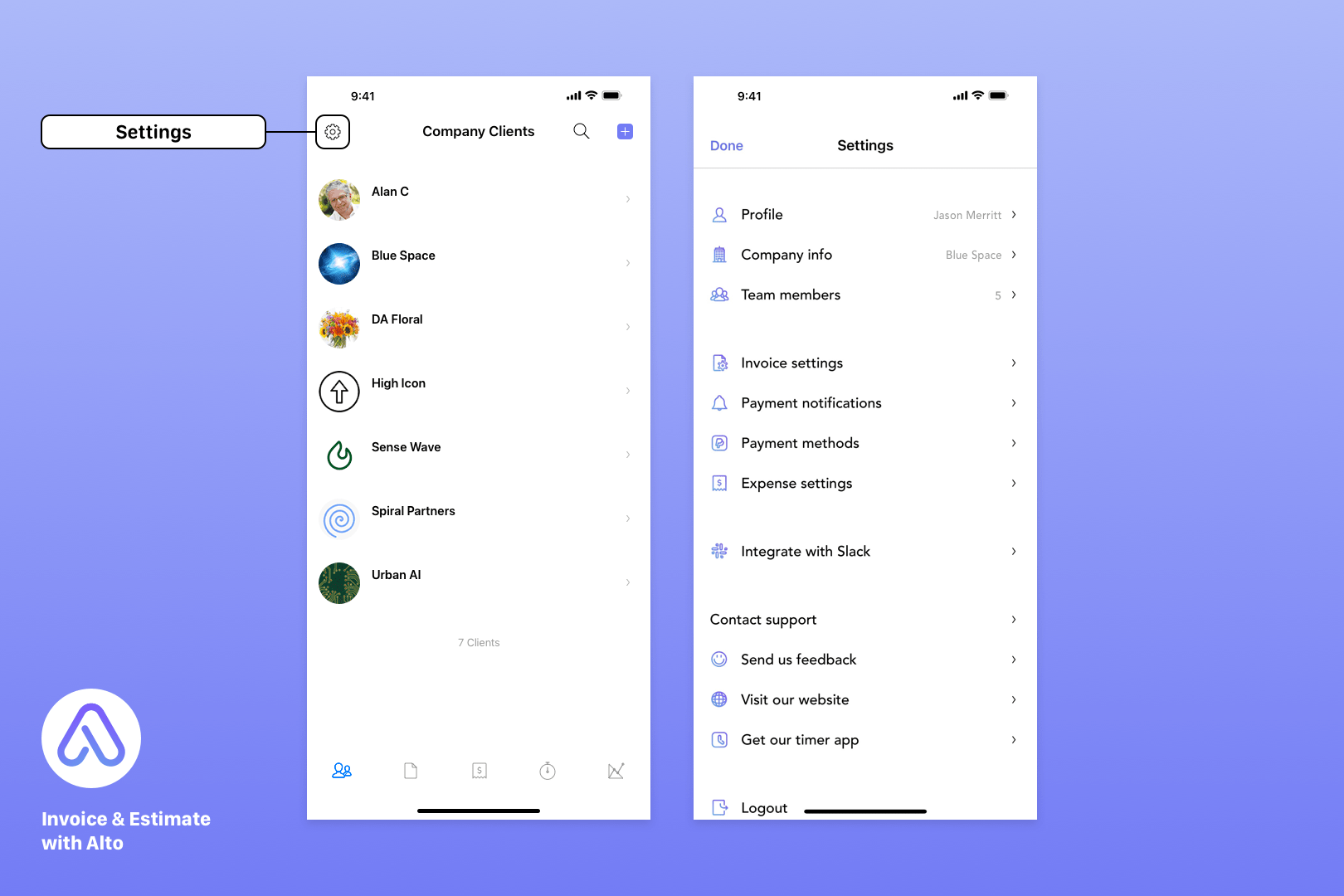 The Settings view lets you customize important features of Invoice & Estimate with Alto, such as invoice settings, payment notifications, payment methods, and expense settings.
But let's start with the basics: Profile, Company Info, Team Members, and Invoice Settings.
User Profile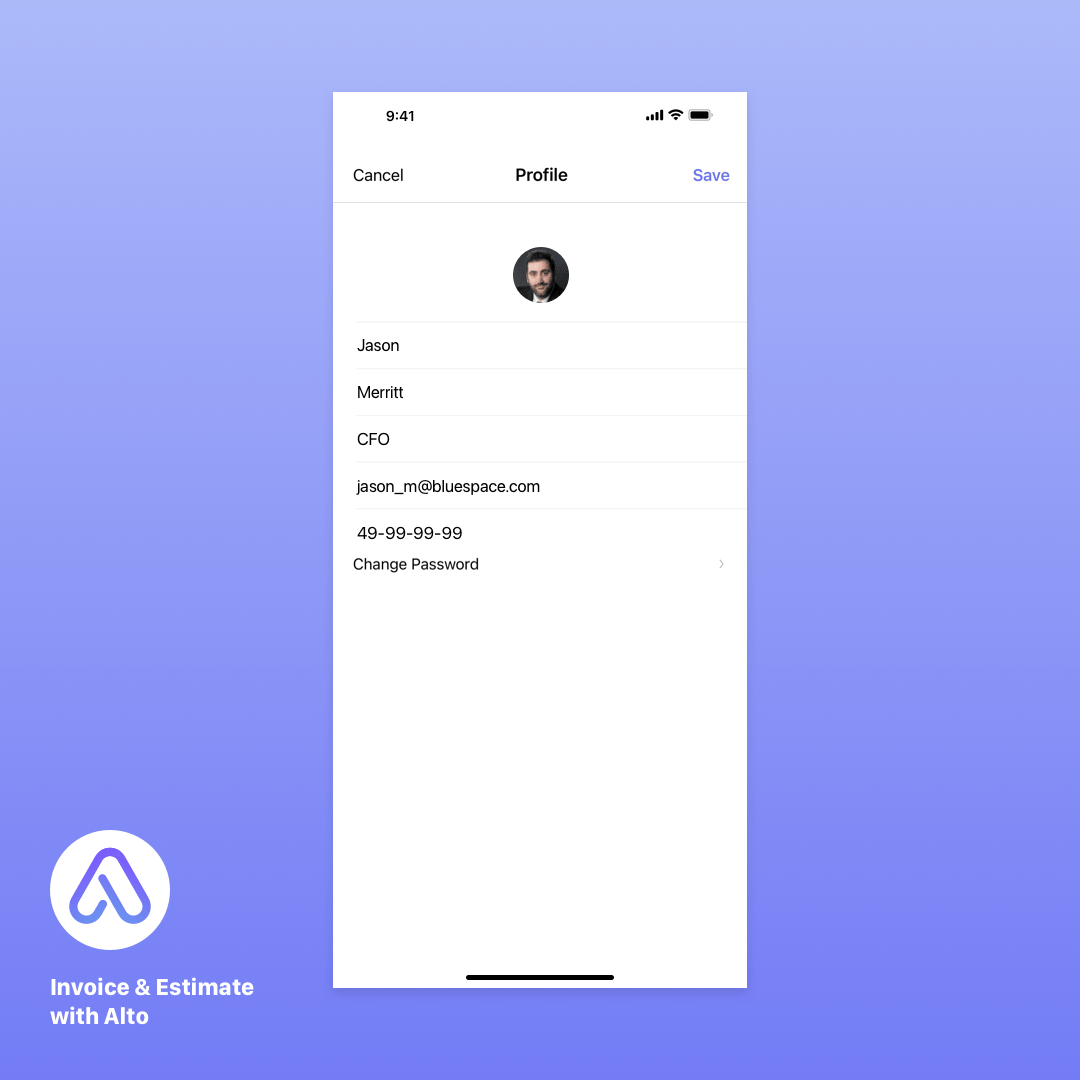 This is your account information, and also where you change your password, if necessary. The profile photo you add here will be visible on the Team Members screen.
Company Info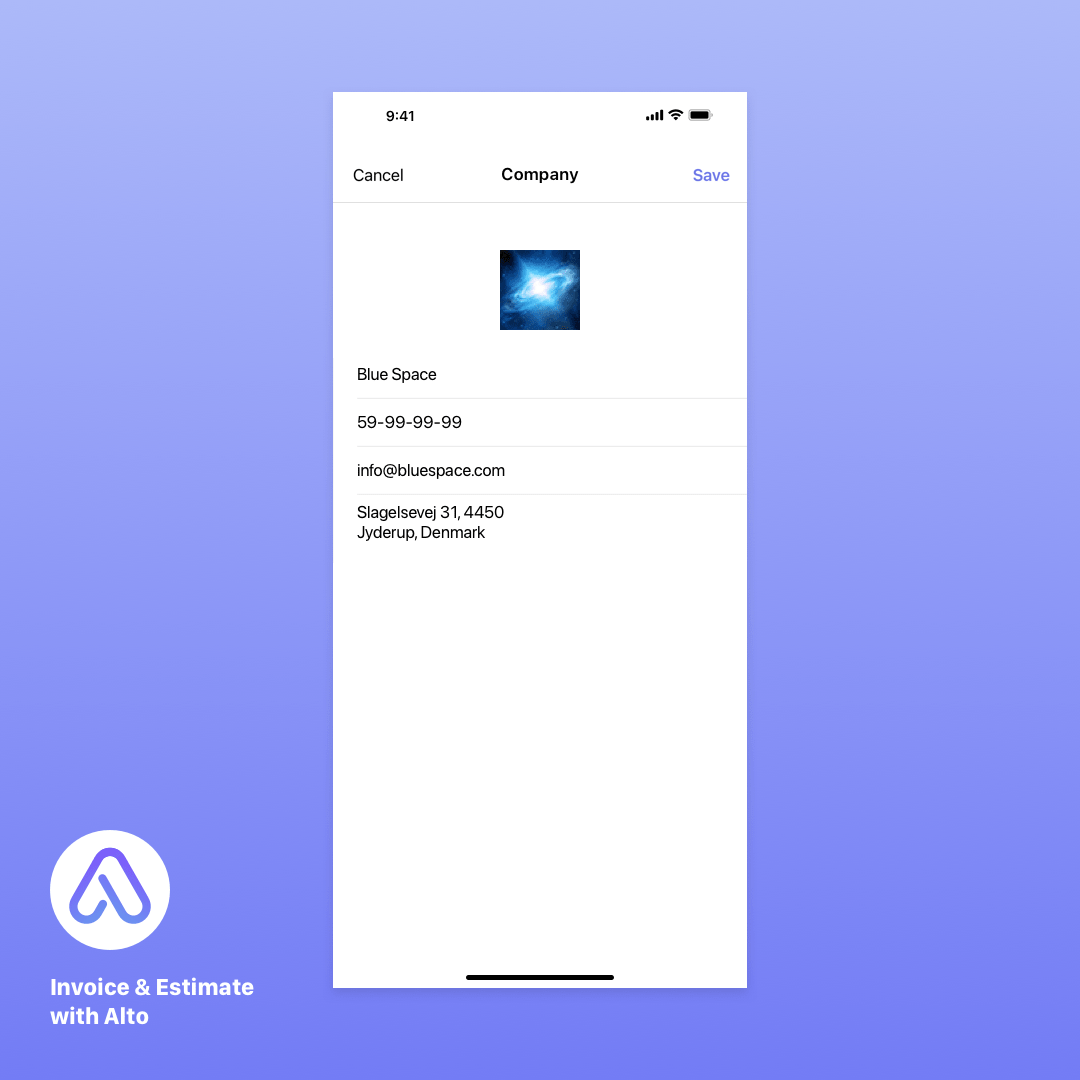 This is the information that will appear on your invoices. The company logo, like your profile photo, is added from your photo library.
Team Members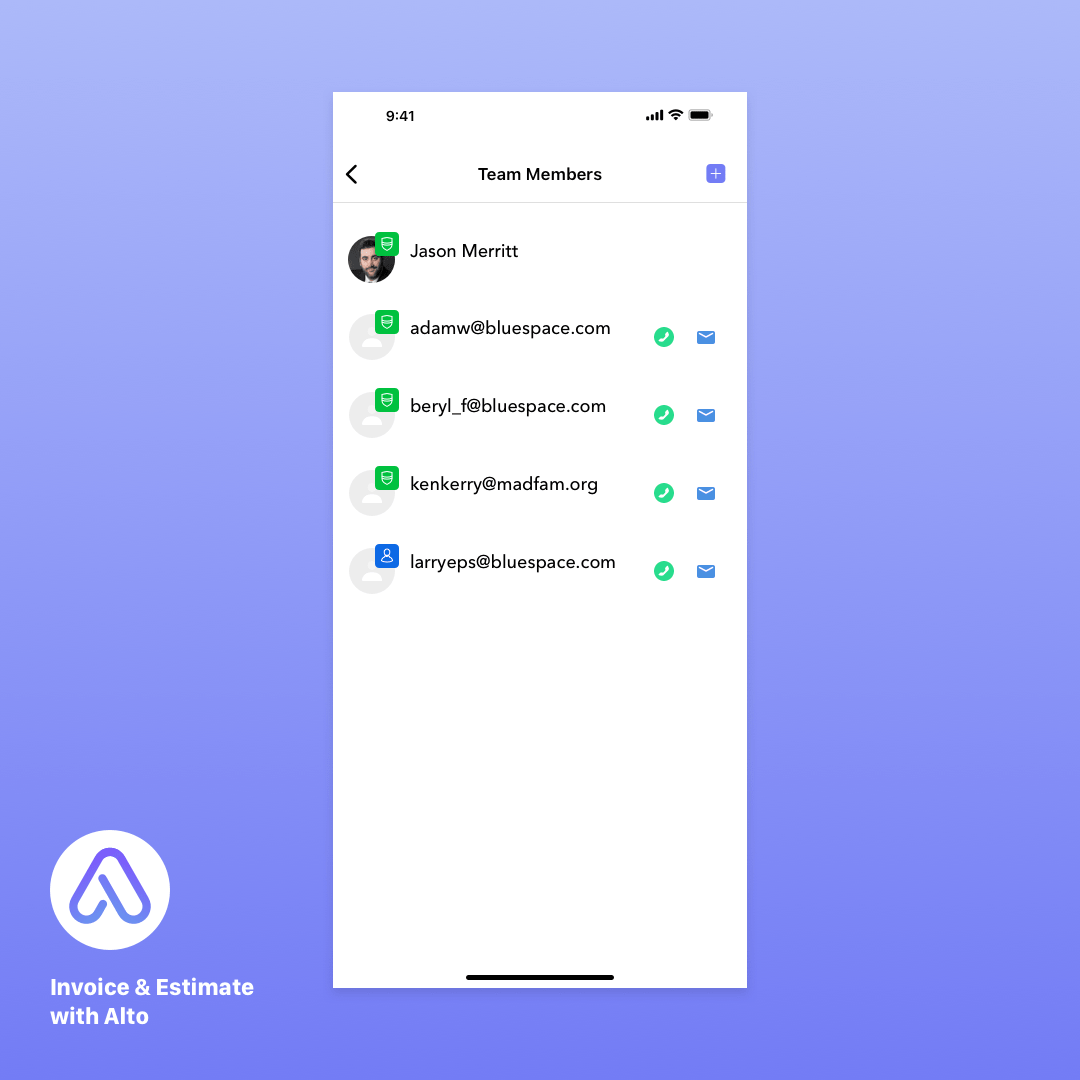 The Team Members list allows you to quickly call or message anyone on your list.
To add a member to your team, simply invite them and assign them one of three levels of access:
Admin allows this team member to edit all information in your account, from settings to billing information.
Normal prevents them from managing company information, team members, and defaults.
Timer limits them to adding times and expenses to tasks.
Invoice Settings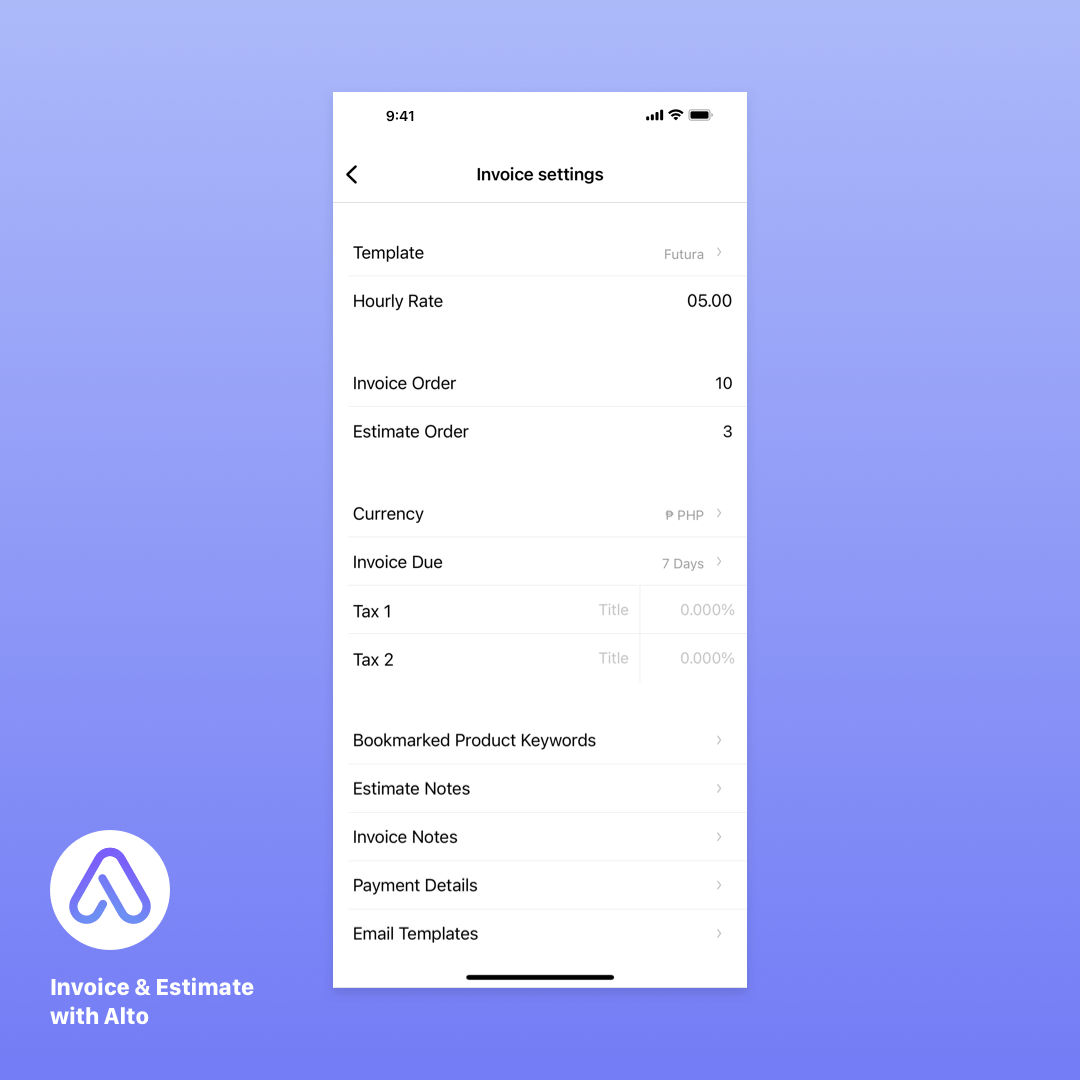 This is where you configure the variables used to generate your invoices, as well as their appearance.
Start by selecting one of seven design templates, then set your default hourly rate. The hourly rate can be customized on individual invoices as needed.
Your default currency can be set to any major global currency, including Bitcoin. The system allows clients to pay in their preferred currency via an automatic converter that updates conversion rates based on a selected frequency.
Add up to two different tax rules to your invoices to accommodate different billing for different product types.
You can include multiple types of notes on your invoices, as well as set a specific "invoice due" date.
Email templates allow you to create standard messages for sending quotes, invoices, reminders, and thank-you emails to customers. More than 20 data variables – such as client name, project title, and invoice total – can be included in the templates, making communicating with clients as easy as one click!
Finally, the Advanced option lets you edit the sender name that appears on your emails, and whether to send emails from the app or from your phone's mail application.
And with these defaults set, Invoice & Estimate with Alto is ready for you to add clients and create invoices.
Next: Invoices
Invoice & Estimate with Alto was built for Freelancers, Consultants and Small Businesses, by a creative team of Freelancers and Small Business makers.
Create your free account today and discover why 30,000+ Freelancers and Small Business Owners love Invoice & Estimate with Alto.