Time is valuable. Every second counts. Whatever your profession, you must use your time wisely.
To help you do just that, we've created a companion app to Invoice & Estimate with Alto: Time Tracker with Alto.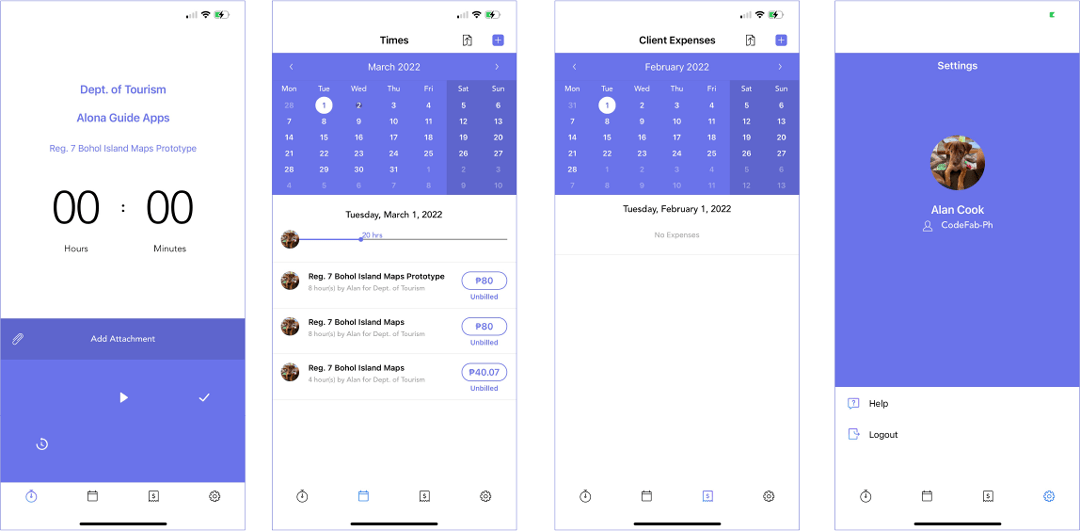 Time Tracker with Alto's powerful, cloud-based features let you track your working time on a per-task basis, edit your billable hours, manage your tasks on a day-to-day basis, and sync your times into simple invoices.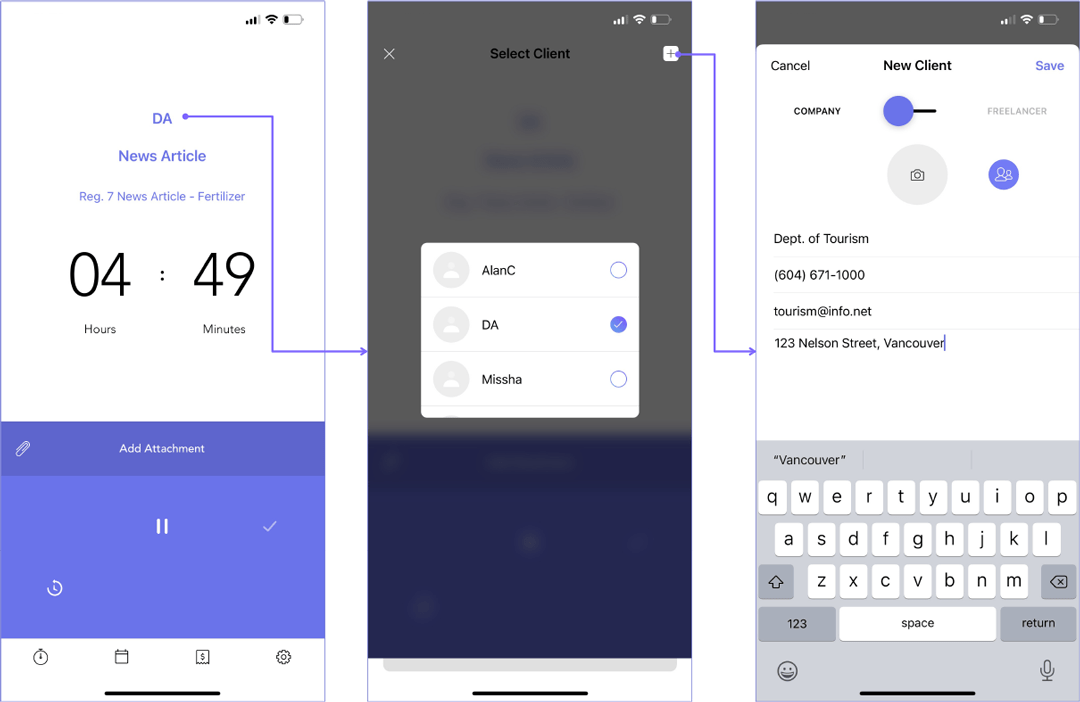 Manage Clients
Managing clients is quick and easy. When on the Timer screen, tap the current client name (in this example, DA) to see all the clients in your system. To add a new client, tap the plus icon at top right. The New Client screen lets you add their information — including whether they are a company or a freelancer — and save them to your system.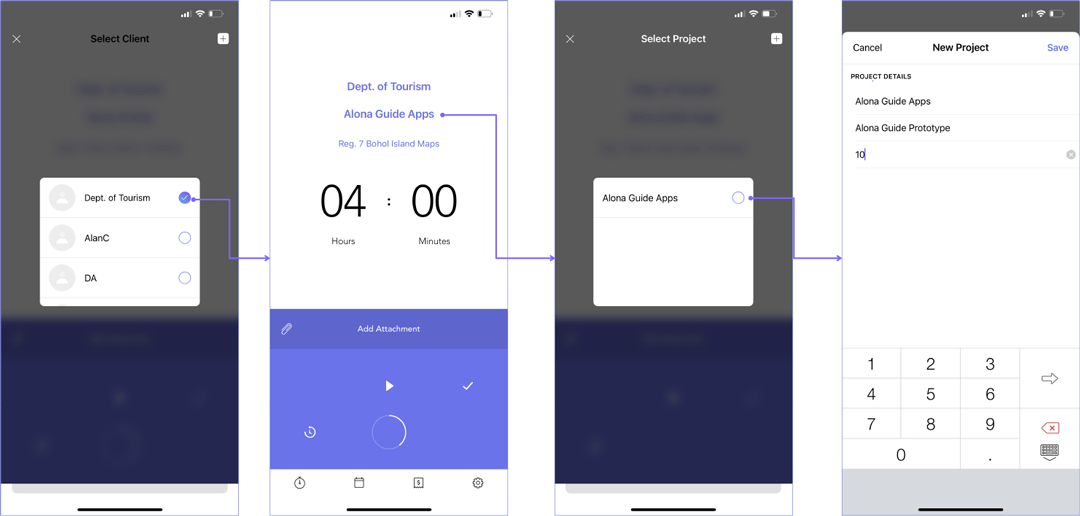 Manage Projects
Once the client has been set, tap the second line on the Timer screen to select which project you are timing. Choose from a list of available projects, or add a new one by tapping the plus icon at top right, and entering project title, details, and hourly rate in the New Project screen.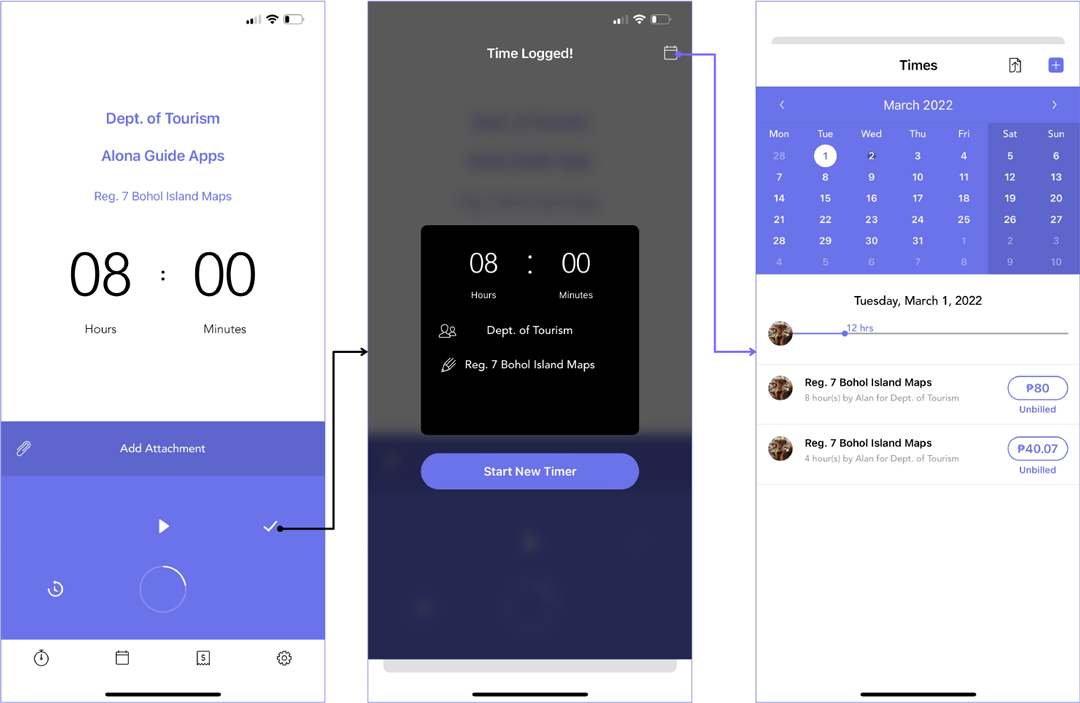 Log Time
Once the Client and Project are set, tap the play icon in the timer area to begin logging your hours. Tapping the check mark allows you to edit your time and add notes to your time.
The Times screen shows all the hours you've tracked, and including amount due and amount unbilled.

Create & Send Invoices
From the Times screen, you can create and send invoices directly to your clients, or set up payment gateways to receive payments — either immediately or by due date.
To make Time Tracker with Alto even more powerful, use the Invoice & Estimate with Alto companion app to manage your estimates, invoices, payments and much more, and sync your data in the cloud for seamless integration between devices.
Time Tracker with Alto and Invoice & Estimate with Alto are built for Freelancers, Consultants and Small Businesses, by a creative team of Freelancers and Small Business makers.
Create your free account today and discover why 30,000+ Freelancers and Small Business Owners love Invoice & Estimate with Alto.