Working and invoicing anywhere is easy with Invoice & Estimate with Alto.

Professional invoicing for freelancers, contractors and small business owners. Available on iPhone & iPad.

Get beautiful customisable templates. Add attachments and pay the invoice right on the same page.

Get paid inside the invoice. Alto links directly with your online accounts to ensure fast, secure payment.

Track hours on projects. Bill hourly, daily, weekly or monthly and generate invoices from the time you log.

Run reports in real-time and gain critical insights on your business and team members performance.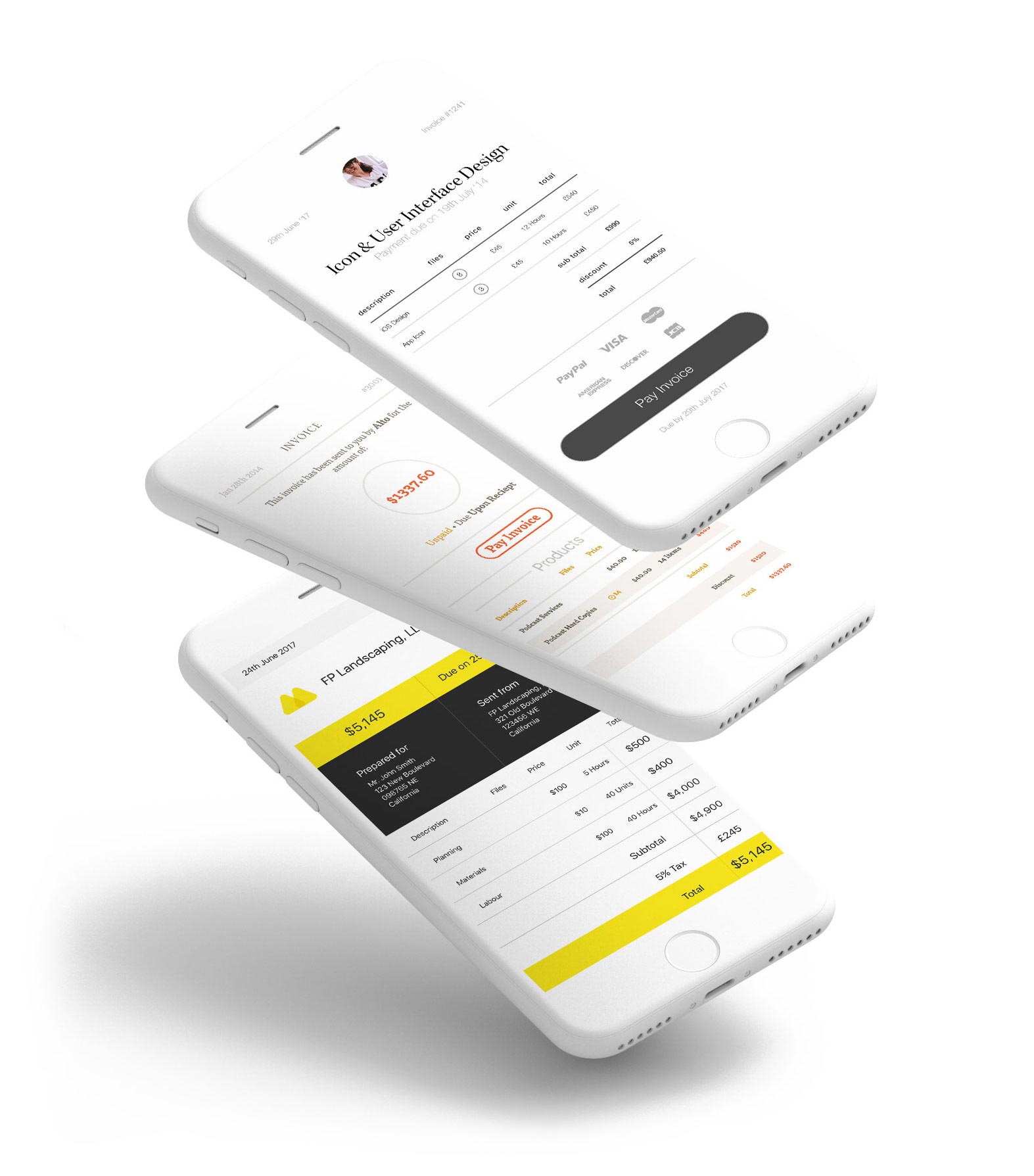 Impress your clients with professional invoices
Send beautiful invoices with your own logo, and choose from 7 carefully constructed and customizable templates.



You choose how you get paid!

Integrated secure credit & debit card payments inside the invoice.

Stripe
Stripe makes for great financial management and more so, fast payments.

PayPal
Get paid instantly with a "pay now" button directly inside the invoice.

IBAN/Transfer
Add IBAN or Bank Transfer details inside the invoice payment details.

Cheque
Let your client know that you would like to be paid by Cheque.

Cash
Mark inside the invoice to be paid by cash on completion of work.
Organise your invoices and get paid on time

Invoices use a "Pay Now" button directly inside to allow customers to pay instantly with PayPal, Stripe, Square Cash or Debit/Credit Cards.

Pay Now button on invoice


Get payment notifications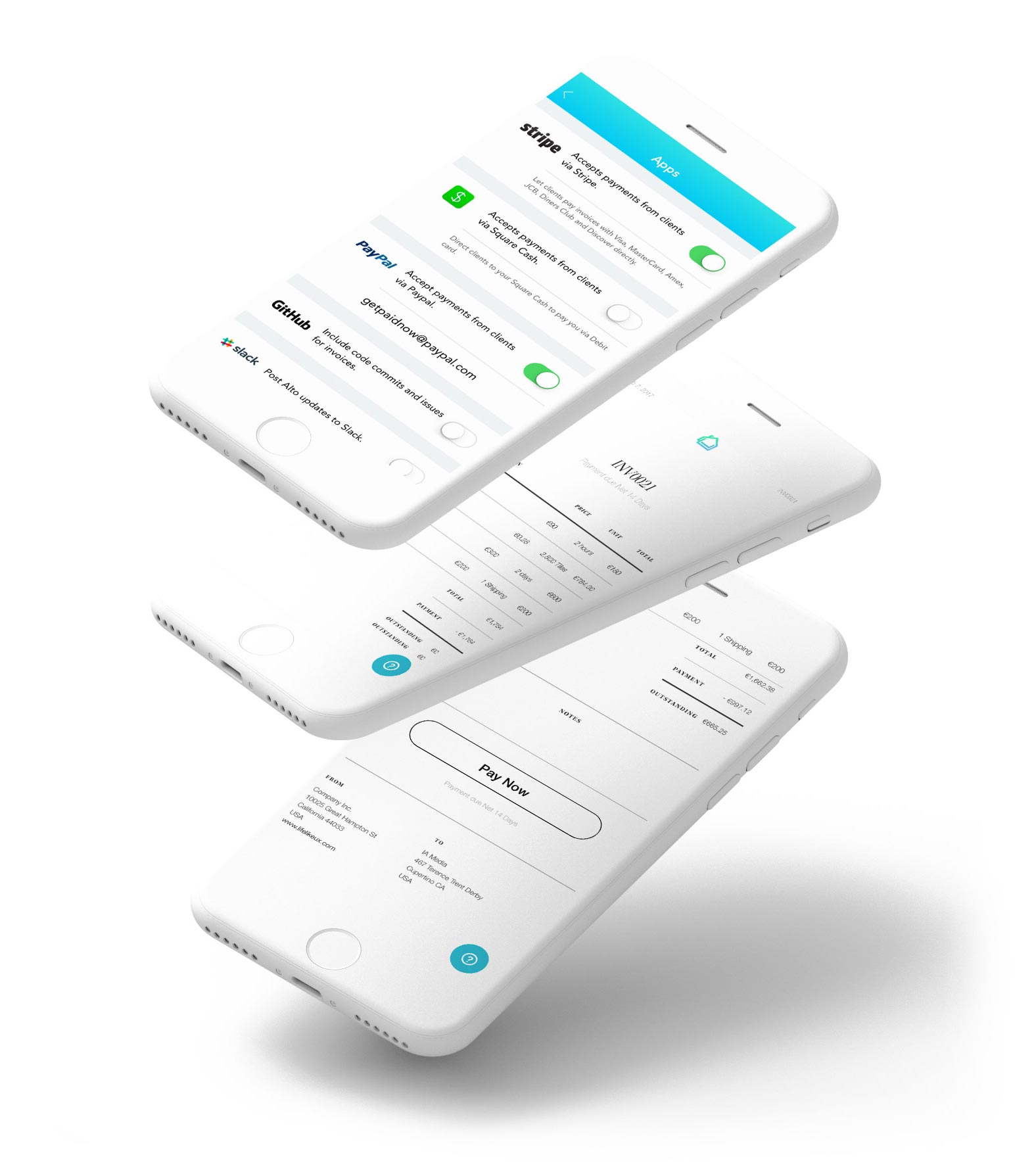 Who uses Invoice & Estimate with Alto?
9,498
FREELANCERS
Artists, Musicians, Podcasters, Crafters, Writers, Designers, Developers & More.
8,385
SMALL BUSINESSES

Builders, Landscapers, Architects, Startups, Agencies, Store Owners, Family Business & More
6,442
SOLE TRADERS

Bookkeepers, Health Carers, Tutors, Virtual Assistants, Cleaners, Varying Advisors & More.
2,968
CONSULTANTS
Accountants, Project Managers, Auditors, Techies, Strategists, Recruiters & More

Excellent user experience in the app and the final invoice delivered to the client looks fantastic!
Because Everythings Taken
App User
This app is perfect for entrepreneurs on the run, who are looking to fulfill their creative endeavors without the hassle of invoicing.
The template designs are clean and beautiful. Love that each estimate or invoice has its own link to view.
Modern Collectiv
App User
Alto is a great invoicing app which has excellent integration with a time tracking app. This makes it really easy to accurately count my billable time. Are additional templates in the pipeline?
I had tried lots of different invoicing apps but they are either too in depth or really basic. With Alto it is all round perfect for what I need. Also the support from the team is also the best I've experienced from the App Store.